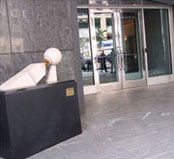 The Washington office is staffed by professionals with extensive university and agency experience. The staff is specialized in designated areas of university administration and compliance. The staff is available to the membership at any time to answer questions, provide networking contacts, for consultation or clarification of policy or procedural questions.
The Washington office provides continuing liaison among the Board, committees and working groups and provides information about the work of these COGR groups to the membership via a variety of communication services.
Individuals in the Washington office are in regular contact with federal funding agencies and keep the membership informed on federal regulatory developments.
Council On Governmental Relations
1200 New York Ave, N.W.
Suite 460
Washington, D.C. 20005
Phone: (202) 289-6655
FAX: (202) 289-6698
 
| Name | Title | Extension |
| --- | --- | --- |
| Tony DeCrappeo | President | X 111 |
| Jacquelyn Bendall | Director, Research Compliance & Administration | X 117 |
| Robert Hardy | Director, Contracts & Intellectual Property Management | X 114 |
| David Kennedy | Director, Costing Policies | X 113 |
| Lisa Nichols | Director, Research & Regulatory Reform | X 120 |
| Toni Russo | Administrative Officer & Policy Analyst | X 110 |
Tony DeCrappeo has been with COGR since 1995, serving as Director for Research Compliance and Administration, Costing Policies, Vice President, and since 2005, as President. Prior to joining COGR, Tony was Director of the Grants and Contracts Office at New Mexico State University and prior to that was Deputy Director for Sponsored Programs at Penn State University. Tony started his professional career in Washington, D.C. with the General Accounting Office (now the Government Accountability Office), with part of his GAO tenure spent working as a special investigator for the House Subcommittee on Oversight and Investigations.
Jackie Bendall is the Director of Research Compliance and Administration and supports the work of the RCA Committee of the Board. Prior to joining COGR in October 2014, Jackie had served as the Director of Sponsored Projects Administration and the Director of Research Training and Compliance at The George Washington University. Her career spans 22 years of combined public and private university research administration experience and seven years of contracting experience with the National Aeronautics and Space Administration. Jackie earned her BA from Athens State University in Business Administration and a Masters of Public Administration from Georgia State University.
Robert B. Hardy is the Director of Contracts and Intellectual Property Management and provides staff support to the CIP Committee. Prior to coming to COGR in April 2001, Bob was with the National Science Foundation (NSF) for over 30 years, serving in a variety of capacities. Most recently he served as Director of the Division of Contracts, Policy, and Oversight. For his service during his NSF career Bob received NSF's highest honor, the NSF Distinguished Service Award. He holds a B.A. degree from Gettysburg College and J.D. from Catholic University.
David Kennedy is the Director of Costing Policy and Studies and supports the work of the Costing Policies Committee.  Responsibilities encompass monitoring all federal financial and costing policies that affect the management of federal research programs.  Major areas of focus have included Effort Reporting, ARRA compliance, and Facilities & Administrative (F&A) reimbursement issues.  Most recently, Costing Policies and RCA have led the 5 year COGR effort to shape and influence the implementation of the Uniform Guidance (2 CFR Part 200).  Prior to joining COGR in January 2006, David worked as a consultant for 16 years, specializing in F&A reimbursement, financial compliance and other costing related issues.  David earned his BS in Economics from Lehigh University and his MS in Public Policy Studies from the University of Chicago.
Lisa Nichols is the Director of the Research & Regulatory Reform Committee. Prior to joining COGR in September of 2014 Lisa was a Science Policy Analyst and an American Association for the Advancement of Science, Science and Technology Policy Fellow at the National Science Foundation and the National Institute of Mental Health where she was also a post-doctoral fellow. Lisa earned BA and MA degrees in psychology. She earned a Ph.D. in neuroscience from Purdue University.
Toni Russo handles finance and operations for the Council. In addition, Toni serves as a Policy Analyst and supports the work of the Directors, Board, and Committees. Prior to joining COGR in September 2015, Toni was a Research Compliance Officer at the George Washington University. Toni earned her BA in Public Administration and her MA degree from GW in Strategic Public Relations.