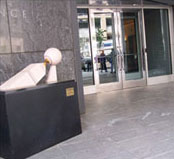 The Washington office is staffed by professionals with extensive university and agency experience. The staff is specialized in designated areas of university administration and compliance. The staff is available to the membership at any time to answer questions, provide networking contacts, for consultation or clarification of policy or procedural questions.
The Washington office provides continuing liaison among the Board, committees and working groups and provides information about the work of these COGR groups to the membership via a variety of communication services.
Individuals in the Washington office are in regular contact with federal funding agencies and keep the membership informed on federal regulatory developments.
Council On Governmental Relations
1200 New York Ave, N.W.
Suite 460
Washington, D.C. 20005
Phone: (202) 289-6655
FAX: (202) 289-6698
 
| Name | Title | Extension |
| --- | --- | --- |
| Wendy Streitz | President | X 111 |
| Jacquelyn Bendall | Director, Research Compliance & Administration | X 117 |
| Robert Hardy | Director, Contracts & Intellectual Property Management | X 114 |
| David Kennedy | VP & Director, Costing Policies | X 113 |
| Michelle Christy | Director, Research & Regulatory Reform | X 120 |
| Toni Russo | Administrative Officer & Policy Analyst | X 110 |
Wendy Streitz is the President of COGR and has previously served on the COGR Board and on the Research Security & Intellectual Property (RSIP) Committee, which she also chaired for a time. Prior to joining COGR, Ms. Streitz was the Executive Director of Research Policy Analysis & Coordination for the University of California system. Prior to that, she was Associate Director of Auburn University's Intellectual Property and Technology Transfer office, after having spent many years in industry as an electrical engineer. Ms. Streitz earned her Bachelor's in Engineering from Harvey Mudd College, and MS in Electrical Engineering from Johns Hopkins University.
Jackie Bendall is the Director of Contracts and Grants Administration (CGA) and supports the work of the CGA Committee of the Board. Prior to joining COGR in October 2014, Jackie had served as the Director of Sponsored Projects Administration and the Director of Research Training and Compliance at The George Washington University. Her career spans 22 years of combined public and private university research administration experience and seven years of contracting experience with the National Aeronautics and Space Administration. Jackie earned her BA from Athens State University in Business Administration and a Masters of Public Administration from Georgia State University.
Robert B. Hardy  is the Director of Research Security & Intellectual Property (RSIP) at the Council on Governmental Relations.  Mr. Hardy has lead COGR responsibility for university issues pertaining to federal contracting and technology transfer policies and regulations.  Prior to coming to COGR in April 2001, Mr. Hardy was with the National Science Foundation (NSF) for over 30 years, serving in a variety of capacities  During the last eight years of his NSF career he served as Director of the Division of Contracts, Policy and Oversight.   Mr. Hardy holds a B.A. degree from Gettysburg College and J.D. from Catholic University, and is a member of the Bars of Maryland and the District of Columbia.  
David Kennedy  is the Vice President and Director of Costing & Financial Compliance (CFC) at the Council on Governmental Relations. He monitors all federal financial and costing policies that affect the management of federal research programs. Since joining COGR in 2006, his areas of focus have included Facilities and Administrative (F&A) cost reimbursement, implementation of the Uniform Guidance (2 CFR Part 200),  Effort Reporting, American Recovery and Reinvestment Act (ARRA) compliance, Single Audit and Federal audit initiatives, cloud computing, and other related issues. Prior to joining COGR, David worked as a consultant for 16 years, specializing in F&A reimbursement, F&A rate negotiations, and other areas of financial compliance at colleges and universities. David earned his BS in Economics from Lehigh University and his MS in Public Policy Studies from the University of Chicago.
Toni Russo oversees finance and operations for the Council. In addition, Toni also serves as a Policy Analyst and supports the work of the Directors, Board, and Committees. She has supported projects such as the F&A Rate Survey, F&A White Paper, Cannabis & Hemp Research Working Group, and others.   Prior to joining COGR in September 2015, Toni was a Contracts Specialist and Research Compliance Officer at the George Washington University. Toni earned her BA in Public Administration and her MA degree from GW in Strategic Public Relations.