Who We Are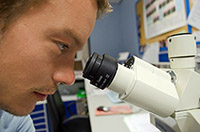 Located in the District of Columbia,  COGR is an association of research universities, affiliated medical centers, and independent research institutes.
COGR was founded 1948, and we remain true to our mission by supporting our members in the areas of research administration and compliance, financial oversight, and intellectual property. 
COGR's primary function is to advocate for policies and practices that fairly reflect the mutual interests and separate obligations of federal agencies and research institutions as it relates to research and graduate education.  We do this by providing information, analysis, advice, policy perspective, and historical context to our members and by making certain that federal agencies understand academic operations and the impact of proposed regulations on research institutions.   
COGR holds three membership meetings and several webinars throughout the year to keep its membership informed of any and all issues facing research institutions today.
Read COGR's Biennial in Review (2020-2022)